Yay! This is the first time that I've realized 10 weeks is the quarter way point, I always celebrate double digits and not how far I am, I feel like I've accomplished more! The other day Eric asked how far along I was, I said almost 10 weeks, quarter there. Some color drained from the small amount of skin between his eyes and beard and said "great, this is going to totally be a 'omg a positive pregnancy test, omg there's another baby here' thing huh." Yeah, pretty much. PS... on the topic of beards... if you ask Milo where his beard is, he will be concerned for a moment, then assure you it's in a box in the car. HAHA love him.
This month we got our good insurance back, the one that covers pregnancy, the other one didn't, super awesome. This one costs about $500 more a month. I love insurance. So since we have our fancy insurance now, yesterday I decided to go ahead and make a 3 month prenatal appointment with one of my midwives. The receptionist responded to my request with sheer panic over the fact that I had not been receiving care, I swear I could hear papers flying and filing cabinets falling over. She said I would be 10 weeks tomorrow, they needed to see me between 7-10 weeks for a confirmation of pregnancy, they needed to see me immediately. I felt like I had disturbed her sense of reality.
I calmly told her my pregnancy has been uncomplicated, this is my third baby, I've never had a loss, I know I'm pregnant, I know when I conceived, I shouldn't need a confirmation of pregnancy ultrasound since I know my exact conception date, something at the end of the month is fine.
Not fine.
There was then a flurry of words about having to have an ultrasound and seeing an OB before seeing a midwife and that they could not give me care without an ultrasound to confirm the pregnancy. She needed permission from the owners of the practice to do anything different and she said she would have one call me.
No call.
I called this afternoon and got a receptionist that sounded a little more like she belonged there, everyone in the office has always been It's A Small World cheery with me. I explained what happened yesterday and she wanted to know who I had talked to because she was confused by the whole scenario. Me too. We went on to make an appointment with one of the midwives, Meredith, second week in August. She said she needed to schedule an ultrasound too and I again asked if I had to have one. She said yes, there is a 20% increase in viable pregnancy
after ultrasound
at 7-10 weeks gestation.
*confused silence*
Anyone catch why this makes zero sense? I asked how that could be and she didn't know, and I certainly didn't know, and I said I'd like to know what they are basing that off of and she said so would she... There
is
an increase in viability after a heartbeat has been seen, but it's not because we've seen it! Ultrasound or not viability increases. I was so stunned that I forgot to push the issue on the ultrasound and a referral into Healthcare for Women was put in for me to get an ultrasound there. That appointment hasn't been made so I might ask some more questions because it sounds like there is really no reason for me to be getting an ultrasound, likely just policy to protect the practice but does not benefit mom or baby. We all know how I feel about that.
Feeling ok, craving a new food everyday still. Today I ate 4 nectarines, if we had more I probably would eat them. Here's my 10 week pics!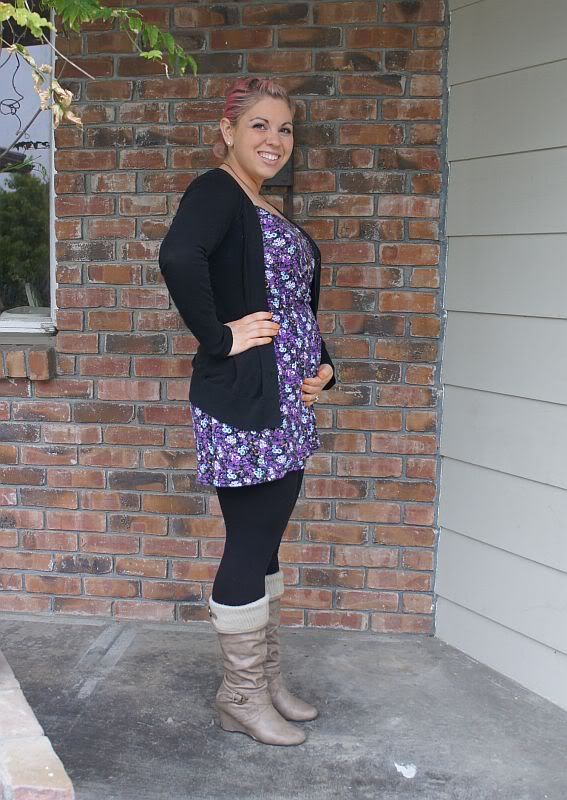 Ten down, thirty to go!
Baby should be the size of a kumquat, but we couldn't find
one so we found a really small plum that should be about the
same size. You get the idea, it's amazing how fast they grow!