I feel like we just found out we are pregnant (it's been two weeks) and we are half way through the first trimester! That's cool right? This first tri is hitting me particularly hard so I am counting the days til we roll into tri two, hopefully I will not be so big that I am actually rolling.

I've been sick since before we even got our positive test, though fortunately not too much puking. I did have to escape behind a building during yesterday's Salinas Half Marathon group training to puke. I really didn't want anyone to see me and think it was because the running was too much for me. I'm always afraid to be thought of as the fat girl that doesn't have any business trying to look like runner... and being a round, huffing and puffing sweaty mess puking on the track makes me feel like a real life Biggest Loser episode.

Aside from being sick, and tired, I am getting cravings! Unfortunately, the staples of my diet: lettuce, zucchini, squash, garlic (YES GARLIC! OMG ARE WE SURE THIS BABY IS MINE??), tomatoes, chicken, rice... all make me gag. I totally just had to take a break from writing that list because I started getting sick imagining zucchini. What sounds good? Dark chocolate (which I typically hate), peanut butter, bread, oranges, and milk. Unfortunately, like Milo and Ash, Sesame Seed will not tolerate milk and let me know it was not welcome in his environment about 3 miles into a run last weekend. It wasn't good, I learned my lesson... no milk. Babies always get their way and they waste no time in reminding you who is boss.

I wish I had a cute ultrasound blob to share with you, but we have decided to skip ultrasounds (except for one at 25 weeks) and early prenatal care this time around, so all I have left for you is a picture of my pre-bump tummy... thought I'd capture it before another Gentry Giant wrecks havoc on it once again. I wanted to get a cute picture of the boys holding signs next to my tummy... yeah, I should have known better right? So I'll share pictures of the boys doing anything but what I wanted them to do with signs...
The babies came nowhere close to posing in this with me, oh well.
At least one of my children did... kinda...
Baby is about the size of a blueberry!
Negotiating with Milo. He wanted to ring the doorbell over and over,
I wanted him to take an adorable picture. We settled on an appropriate bribe.
Close enough :)
Needed lots a tickles between pictures.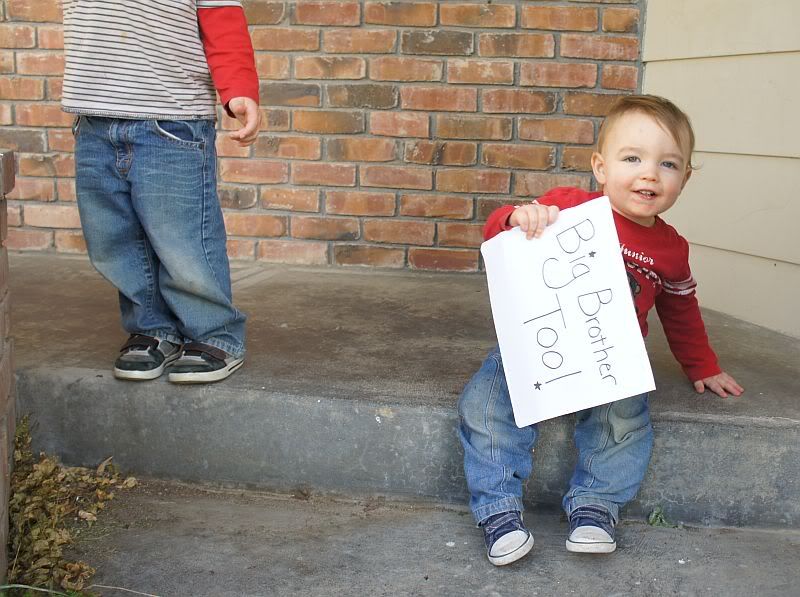 Now we hold the sign up. Oh these babies.
Milo is 2 years, 7 months, and Ash is 15 months.