Honestly, one of my best birthdays yet! I got to see some of my favorite people, eat some of my favorite food (egg rolls made by my mom), and I got a HUGE birthday surprise! I'm not easy to surprise, I usually figure things out, but not this time! Getting to find out if we were having a little boy or girl via a blue or pink cake was really spectacular! I've shared that that was the plan a few times, but to be clear, we had no idea what color the cake would be and neither did anyone else at the party. It was a huge surprise for all of us! In case you missed it, you can see the video
here
. Or just simply scroll down! I have tons of party pictures to share but my cake cutting pix are some of the best! Lots of photos ahead!
Milo checking out the tree. He is allowed to touch ornaments with one finger, and he's actually pretty good at keeping with the rule as long as he's being watched and reminded.
There's the cake!
I was afraid for my mom to put candles in it because I thought the fondant would tear and she would get a sneak peek!
The pink candle wouldn't go out so everyone was yelling it was a girl!
Only one way to find out!
It's
BLUE
!!!! We are having another little boy!!!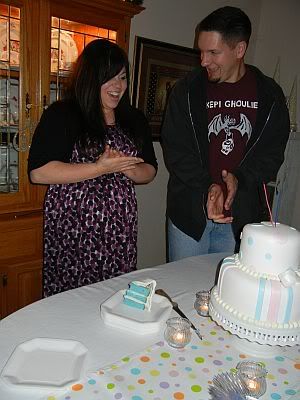 It took a moment to sink in because we were all sure we'd be seeing pink! We are still so thrilled though, Milo gets a baby brother! Ashley Caleb, or Ash! Good thing I haven't even packed up Milo's baby clothes!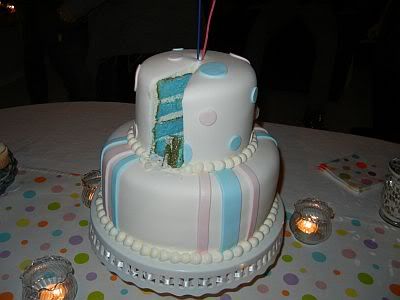 Family picture! Hmmm... maybe even a potential Christmas card picture, Milo is actually smiling at the camera!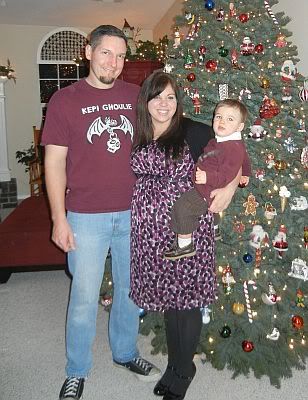 Milo and his new love, Christmas bells!
My and MY love, Erin! This is us posing nicely.
But this is the real us!
Milo is quite the party animal, he even started stripping down! Look at those super cute thighs! He's so squishable, love it!
Milo is great at pointing out teeth, eyes, and noses... he's demonstrating on my cousin Bethany.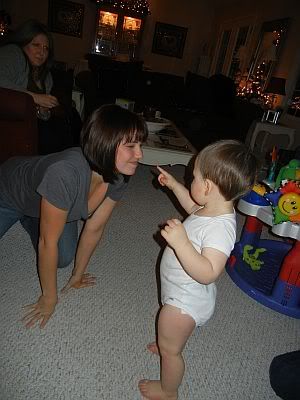 Well that's it! Now onto the next surprise, when will little Ash make his debut!