... post about the ultrasound where we COULD have found out if we are having a boy or girl but didn't because we are finding out on my BIRTHDAY! So we had our anatomy ultrasound on Monday and our little one is not so little. Baby is measuring in the 88th percentile and about a week and a half ahead of schedule. You know what that means? Probably another 10 pound baby. Wee! This baby looked so different in the ultrasound than Milo did. It's chunkier. Even the ultrasound tech commented on this being a chubby baby. It's funny I've just been expecting to give birth to a little Milo clone, it's funny to think this one may look different! It's exciting. Here are some ultrasound pictures for you to ooohh and aaaahh over.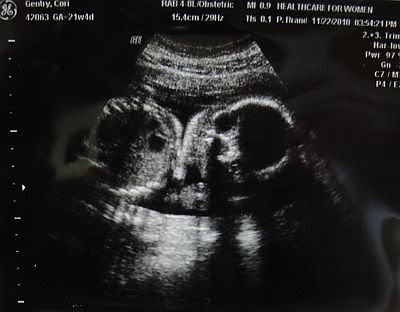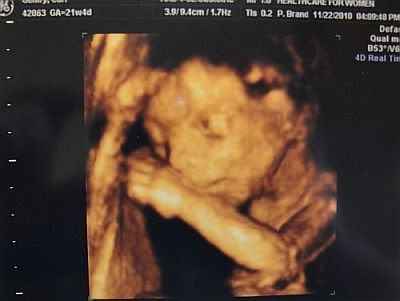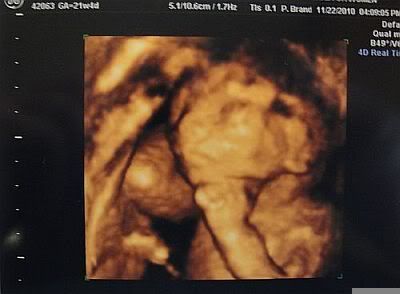 The rest of the appointment went well. I guess the umbilical cord is attached to the placenta weird, so I will need more ultrasounds to make sure it won't affect my delivery. Instead of just going to the middle of the placenta, it goes through the water sac/membrane and then to the side of the placenta. It can cause bleeding issues if my water breaks where the cord is. My OB did not seem to concerned and if nothing changes, I should be able to deliver naturally.
I was unsure if I should talk to my OB about the fact that we plan to change to a different hospital and a midwife in Santa Cruz. I really like him, but not the hospital and not the other OBs in the practice, and I still intend to use him for all of my other gynecological care. I decided to be honest and I'm so glad I did. He said while he wishes I wasn't going, and that if I stayed he would do all he could to make sure I had a better birth experience this time, he couldn't ensure he would deliver the baby and believed I had some valid complaints about the way this hospital treats birth. He asked me to write about my experience for the head nurse so that hopefully they can change for the better. He also said that I can still come back and have all my ultrasounds with them, which was really important to me because their equipment is vastly superior and their tech is extremely talented, just what I want in a high risk situation like mine. I left feeling really good about my decision!
This week a gained 1 pound, so I'm up to 6 pounds gained, but I can still fit in my jeans so I'm not complaining! Oh and I'm feel baby so much more now! It's not like hard kicks, just movement. It's very cute, I love feeling it finally! And I can't believe I only have 18 weeks to go... that doesn't seem that far really!