I love craigslist, it is seriously a 1000 times better than ebay. If I find something I want I can call the person up and usually check it out in person that day. It's great for those who need immediate gratification, like myself.
I've been stalking the Baby & Kid Stuff forum for equipment for the daycare. On my wish list I had a playhouse, an easel, a slide, a picnic table, a play kitchen, and books in good condition. The playhouse was one of the first that I had found: a Little Tikes Magic Doorbell Playhouse, which retails for $250. It was located in San Jose, cost only $80, and I was told it was in good condition. The photo looked great, so I sent Eric up to San Jose to pick it up.
Eric picked it up and I called him as soon as I thought he may be home (I was nannying). I asked him if it looked good and he said yes, but it looked like a dog had chewed the door. I asked him how bad and he said there was a hole. I imagine some dents and a puncture. Not this: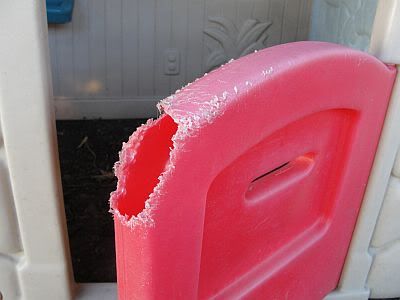 I'm pretty sure I could lose a small child down that cavern. Eric has assumed I knew about the hole and was ok with it. Oh and instead of using a screw driver like a normal human being to detach the roof, they just tore it off, ripping the plastic so it won't sit down right. That we can fix, but the door? I did check the Little Tikes website and they don't sell replacement doors.
I was definitely upset, but what could I do? I sent the lady a slightly nasty email, I told her I was disappointed with the playhouse and that I felt she purposefully misrepresented the condition. To her defense she did post a picture, but I don't think most people would be able to tell there is a huge hole in the door. I took another picture myself, and I only notice the door because I know about it.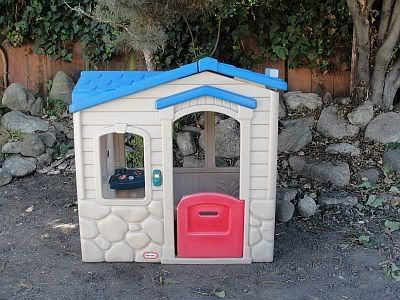 So, put this playhouse up for sale (maybe someone could get creative with the door, or wouldn't care) and started looking for another playhouse. On my first search I found a Little Tikes Log Cabin for $100. It's twice as big as the first playhouse, and retails for $399.99, I've seen it listed for over $500. I offered her $85.
She took it! We picked it up in Carmel Valley that afternoon and had it cleaned up and put together that evening! Immediate Craigslist good karma! It's in nearly perfect condition, there is a small stain on the table inside and it's missing the phone, no biggy. I still love it!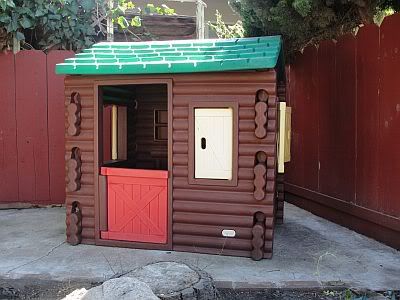 Now to sell that other one... anyone want it?