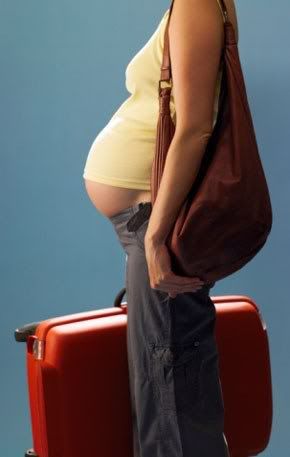 Ok so I've been talking about packing like every day for 2 weeks. I got the bag, I got the stuff, I just need to introduce them, but for SOME reason this is hard to do. I guess my laziness is pretty epic right now. I am nearly positive that I will not start packing until I'm in labor... Eric agrees. I just keep thinking, "Well I need to pack this... oh but I might need it, I'll wait." I think that makes sense.
Anyhow how, to create the illusion of progress, I'm going to blog about packing... instead of doing it. I'll pack tomorrow... maybe.
If you have any id
eas or know of things I'm forgetting, let me know!
I have 2 bags, bag 1 is my labor bag:
• My birth plan, like 10 of them
• Signs for my door & tape
• A watch
• A super comfy robe & slippers
• Something to wear in the tub
• Pillows
• Birthing ball (ok I can't really pack it, but it's coming)
• Hair ties
• Lip balm
• Super soft wash cloth, for sweaty face wiping
• "Natural Childbirth the Bradley Way" incase Eric needs to look something up
• iPod & dock
• Camera & charger
• Video camer & charger
• Cell charger
• Awesome smelling massage lotion
• Sugar-free suckers
• Small ice chest with cold packs
• Snacks, juice boxes, and Propel
• A pad and pencil to write down questions
Bag 2, after baby is here:
• Nursing bras and pads
• Maxi Pads
• Jammies
• Leggings
• Slippers (incase I ruined the other ones)
• Cute sweatsuit set for going home
• Flip flops
• Contacts & contact stuff
• Toothbrush and toothpaste
• Travel shampoo, conditioner... etc
• Make-up, brush, hair dryer and straitener
• Razor
• Mirror to put on bed tray, so I can get pretty in bed
• More snacks!
• Change of clothes & toiletries for Eric
• Going home outfit for Milo
• A cloth diaper JUST IN CASE he's big enough to fit in it
• Receiving blanket
Any other suggestions????